Fast & trouble-free commissioning
Develop your own HMI devices thanks to compact PLC with integrated target visualization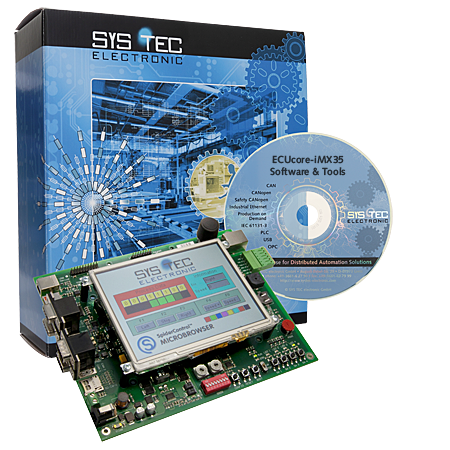 TheDevelopment Kit PLCcore-iMX35 is a powerful complete package at a particularly favorable price. Based on a compact PLC with integrated Target Visualization, the user can develop own HMI devices.

The kit ensures a fast and trouble-free commissioning of the PLCcore-iMX35. It combines all necessary hardware and software components required for the creation of own HMI applications: as core component the PLCcore-iMX35 SOM itself, the corresponding Development Board with QVGA LCD display, 4x4 matrix keyboard, I/O periphery and numerous interfaces, the IEC 61131 programming systemOpenPCS, the SpiderControl HMI Editor (demo version) for the creation of graphic pages as well as further accessories.
Development Board PLCcore-iMX35
The Development Board included in the kit enables fast commissioning of the PLCcore-iMX35 and simplifies the construction of prototypes of user-specific HMI applications based on this module. Amongst others, the Development Board provides various possibilities for power supply, a 320x240 pixel QVGA LCD display, Ethernet interface, 2 CAN interfaces, 2 serial interfaces, 4 push buttons and 4 LEDs as control elements for the digital inputs and outputs as well as Scroll Wheel and connection for a 4x4 matrix keyboard. The signals available at the connectors of the PLCcore-iMX35 are routed to pin headers and thus enable easy connection of own peripheral circuits.
OpenPCSIEC 61131 programming system
The IEC 61131 programming systemOpenPCS included in the kit serves as software development platform as well as debug environment for the PLCcore-iMX35. Thus, the module can be programmed graphically in KOP/FUB, AS and CFC as well as textually in IL or ST. The download of the PLC program to the PLCcore-iMX35 is carried out via Ethernet or CANopen depending on the firmware used. Powerful debug functionalities like monitoring and setting of variables, single cycle, breakpoints and single step facilitate the development and commissioning of user software for the module.
SpiderControl MicroBrowser
The integrated target visualization of the PLCcore-iMX35 is based on the SpiderControl MicroBrowser from iniNet Solutions GmbH. It enables the display of process values of the PLC as well as the transmission of instructions to the PLC (e.g. inputs via touchscreen, scroll wheel and matrix keyboard).
VMware Image Linux - ECUcore-iMX35
In addition to OpenPCS, the Development Kit contains a ready-to-use development environment for the creation of C/C++ applications that can be executed in parallel to the PLC program. This C/C++ development environment is pre-installed in a virtual machine (VMware). The required player to start the virtual machine is available free of charge. The provision of a virtual development environment has a number of advantages. The installation of new software on your computer is limited to the VMware Player. This protects especially inexperienced users from a multitude of possible error sources. You can easily back up your current work status with a copy of the virtual machine. In the event of data loss, your work status is immediately restored and you can continue working without delay.
Kit components

PLCcore-iMX35 - System on Module
Development Board for ECUcore-iMX35
5.7" TFT-LCD touch display
Membrane keypad 4x4 (unlit)
Power supply 12VDC, 1500mA
RS232 cable, 1.8m
FTP patch cable Cat.5e, 2m
CAN cable for 5 nodes, incl. 2 termination plugs
Lever out tool
ESD handling instructions
OpenPCS - IEC 61131-3 programming environment for Windows
Source code of a shared process image reference application
VMware Image with Linux Cross-Development Toolchain for the ECUcore-iMX35

Documents

Downloads

Downloads
Name
Type
Size
Action
S
SYS TEC electronic - specific extension for OpenPCS / IEC 61131-3 Version 7.1.5 RV2.00 - german
exe
32 MB
Download
Your contact:
Your SYS TEC electronic sales team
Contact person