Avoid expensive machine downtime and save costs
The diesels clatter loudly, the air is hot, and it reeks of oil and grease. In the midst of the din is a satisfied-looking Johann, better known as "The Ghost. With his listening tube, he listens inside his diesel despite the immense noise. Cineastes immediately associate the scene with the film "Das Boot". It shows very vividly the old world of machine monitoring: the ear to the machine. With the devices of our sysWORXX family we make your machines readable and thus enable monitoring and control locally and remotely.
In today's industry, machines sometimes work in large, almost deserted halls. But people are still listening - hardly less intensively than on board U96. This is illustrated by the example of a lathe.
In this, axles and shafts operate at very high speeds, and fast-turning components rotate in special bearings. Due to wear, these bearings only live for a limited time, and the lathe operators have always noticed from the noise that something was wrong and called the maintenance engineer even before the machine broke down. This way, if necessary, the expensive machine was repaired before it broke down and could even be planned without losing productive time.
"Today, a structure-borne sound microphone is attached to the machine at a suitable location. This microphone continuously records the vibration and noise and forwards the data to controllers such as the sysWORXX CTR-700."

Dipl.-Ing. Ronald Sieber, CEO SYS TEC electronic AG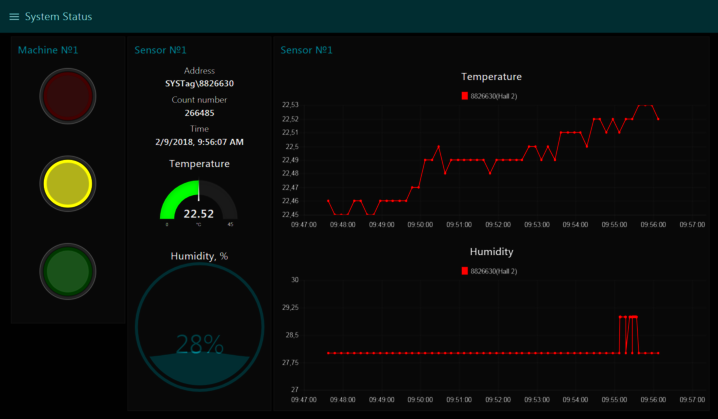 Depending on the customer's requirements, the pre-processed data is then sent to a central computer or directly to a cloud. There, a frequency analysis can be used to determine locally or decentrally from the noise image whether a bearing is reaching its wear limit - and much more precisely and earlier than would be possible for the human ear. In this way, it is determined and predicted very precisely when the lathe leaves its optimum operating point.
sysWORXX solutions are not only used in new machines - it is also possible to retrofit old production machines and systems with little effort. Modernization and expansion of existing plants take place via the development of new data sources in order to increase the productivity and longevity of the machines and the efficiency of the processes.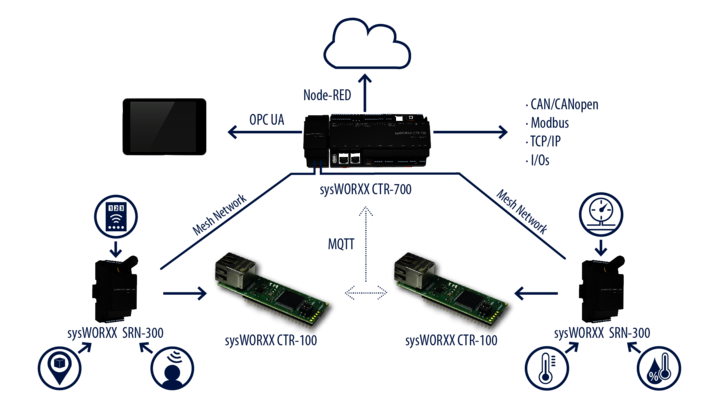 Machine diagnostics on demand
Prediction is part of predictive maintenance. A company no longer has to have its machine serviced and bearings replaced at fixed intervals, but can "listen in" and take precautions according to the situation. This means that procurement can order or provide spare parts. The technicians can prepare the replacement and schedule it for a time when production is as low as possible.
Today, machines are listening to machines, and humans are listening, or better, reading. Cleverly designed sensors are used to monitor machines and production sites. This is made possible by the controllers from sysWORXX.
The niche as a niche
This is a product series specially designed for the Internet of Things (IoT). The sysWORXX CTR-100 and sysWORXX CTR-700 gateways do not simply pass on data to cloud servers or control rooms. Rather, they are capable of pre-processing signals coming from commercially available sensors and wireless sensors. The composite sensor, sysWORXX CTR-100 and sysWORXX CTR-700 is thus especially, but not only, suitable for predictive maintenance and condition monitoring.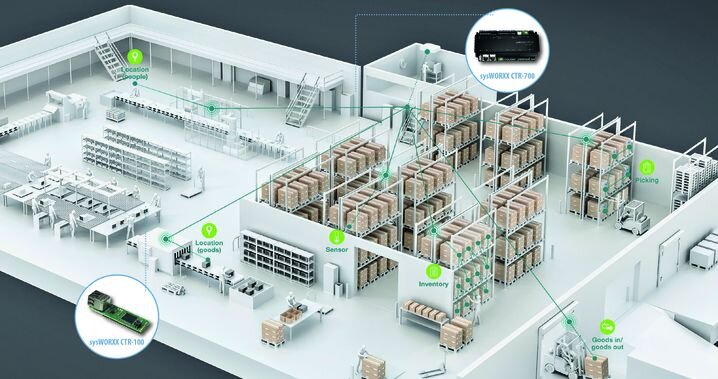 With the sysWORXX family, we want to offer customers individual solutions based on standard products for special requirements. Our target group is niche customers who require solutions that cannot be implemented by standard market participants.
For this purpose, our specialists trim the sysWORXX CTR-100 and the sysWORXX CTR-700 especially for use in the IoT. In addition to classic machine control interfaces such as the CANopen and Modbus fieldbuses, both controllers also offer new possibilities in this area such as wireless networking via Wirepas Mesh.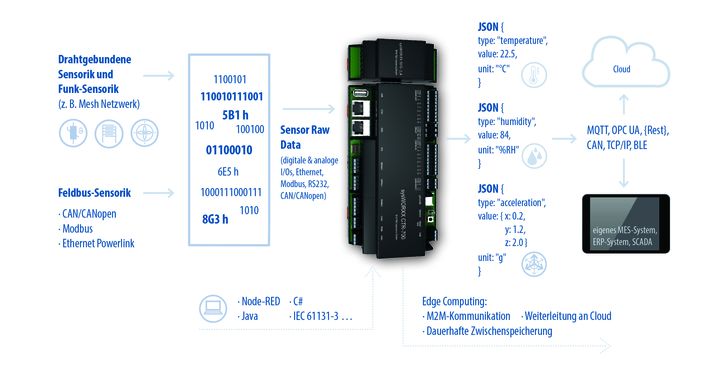 Networks
One of the new functionalities in wirepas has a special appeal. For example, as a particularly energy-efficient standard, it supports the ability of decentralized devices to network flexibly with each other without a central controller, thus creating a meshed network. In this way, very wide-ranging wireless networks can be created with manageable effort and without the need for repeaters. Communication is variable from node to node and is also much less susceptible to interference than conventional star-shaped or tree-shaped network topologies.
Our autonomous sensors also rely on wirepas. They transmit their data via wirepas mesh to the CTR-100 or CTR-700. In addition to the connection of wirepas-based radio sensor technology, the sysWORXX controllers naturally also understand many other sensors, such as the aforementioned structure-borne sound microphone on the lathe.
Making machines readable
With "green" radio and rich features, the sysWORXX family enables the step into the IoT. And even when operators no longer have their own ear to the machine, like machinist Johann in the boat, sysWORXX products maintain the direct connection. We make machines readable.
Available order numbers
N

| Item no. | Description |
| --- | --- |
| 16061000 | sysWORXX CTR-700 incl. microUSB cable |
| KIT-177 | sysWORXX CTR-700 BSP kit |
| | 1x 16061000 sysWORXX CTR-700 |
| | 1x 192016 USB-Stick with Virtual Machine incl. Compiler / Demos |
| | 1x 162208 USB 2.0 cable, USB A ST - Micro USB B ST, 0.8m |
| | 1x L-xxxx Package Leaflet Download Instructions |
| | 1x L-1190 ESD Handling Instructions |
| | 1x 193006 sysWORXX phase tester |
| | - RoHS compliant - |
| 16062000 | Meshnet Extension sysWORXX RFG-2.4 |
| 240011 | Runtime License OpenPCS RT sysWORXX CTR-700 |
Your contact:
Your SYS TEC electronic sales team
Contact person