Basic module for structure-borne sound analysis
Evaluation of vibration data
The sysWORXX SSM-100, also called Structure-borne Sound analysis Module, is a module for the acquisition and evaluation of structure-borne sound vibrations. For this purpose, up to 6 IEPE acceleration sensors can be connected directly to the device. This allows, for example, the simultaneous acquisition of motion data at two measuring points in all three spatial axes. Alternatively, up to 6 independent motion sources can be evaluated.
The data acquired by the sensors is processed by digital signal processing and then converted into the corresponding frequency spectrum using FFT (Fast Fourier Transformation). The spectra, together with their RMS values, are transferred via the Ethernet interface to the higher-level control system, such as the sysWORXX CTR-700. Here, further analysis and evaluation of the vibration data takes place.
The module developed by SYS TEC electronic can be variably adapted to a wide range of applications. The transformation and filter algorithms used are flexible and individually adaptable to customer requirements.
This might be of interest to you: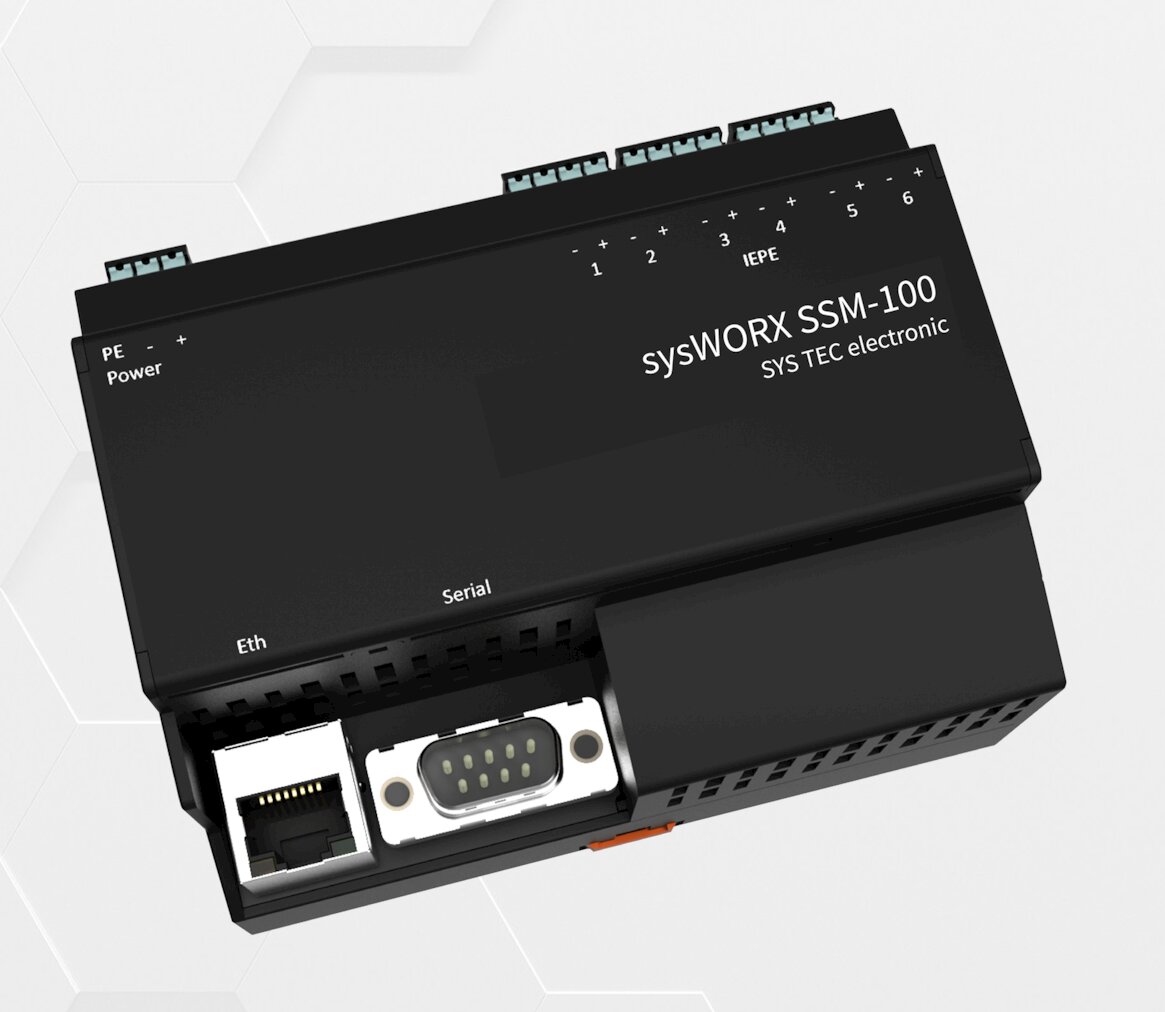 Technical characteristics
The sysWORXX SSM-100 has the following specifications:
6 channels
Sensors: IEPE accelerometers (Integrated Electronics Piezo Electric)
Resolution: 16 bit
Sampling rate: 2.5 kHz
useful signal bandwidth: 3 ... 1000 Hz
FFT resolution: 3268 spectral lines with a resolution of 0.305 Hz
RMS: continuous RMS value
Temperature range: -20 ... +60 °C
Sensor diagnostics for each channel (short circuit/lead break)
Interfaces for value transfer (FFT data and RMS values): RS232 and Ethernet
Your contact:
Your SYS TEC electronic sales team
Contact person