Production 4.0: Manufacturing always in view
You want to be up to date every day on how your machine is utilized and how much energy it consumes? At the same time, do you want to optimize production conditions? With our full-service offers, the terms monitoring, production 4.0 and retrofit become real applications. Benefit from more efficiency and transparency in all areas.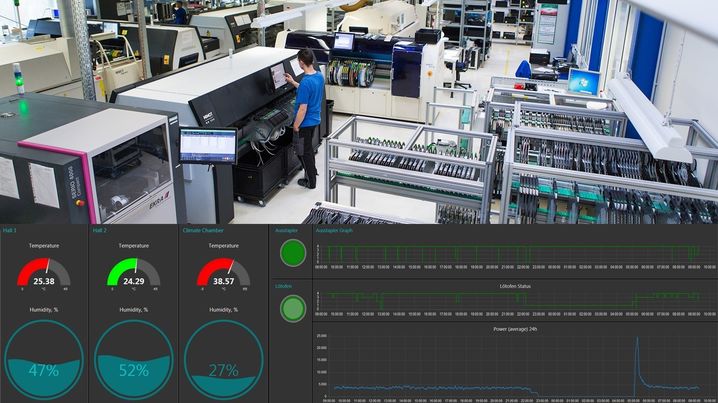 On one day in January, our production team caught a chill in the truest sense of the word after the production break over Christmas and the turn of the year, because the heating system failed during the planned production shutdown. The consequence: unscheduled production downtime - both for employees and machines. However, the unpleasant incident that delayed the resumption of production clearly demonstrates the benefits and advantages of the Internet of Things in production and the benefits of Industry 4.0.

The Internet of Things
The Internet of Things (IoT) describes the networking, communication and data exchange of a wide variety of objects and computing systems across networks and the Internet. These can be entire factories. The smallest of these things are wirelessly connected sensors like the ones that now monitor temperature and humidity in our homes.
In addition, the Internet of Things is part of the basis for Industry 4.0, the term describing the fourth revolutionary development in industry, thanks to cyber physical systems and massive networking.
The first revolution was the introduction of mechanical water- or steam-powered production plants. It was followed by revolution two in the form of electrification and assembly line production. Stage three is seen as the use of electronics and electronic data processing up to digital machine controls.
From this third stage of industrial revolutions, we use the experience and knowledge of the needs of industrial customers, now in Industry 4.0, offering solutions from hardware to electronics to software developments for the embedded and application area - also with cloud connection. Our IoT solutions like the sysWORXX products are also always connected to machine control functions. SYS TEC electronic supplies more than just gateways that merely pass through data without processing it.
For example, the sysWORXX CTR-100: Among other things, the controller brings signal pre-processing for Bluetooth sensors and passes its data to the sysWORXX CTR-700. This larger and more powerful controller was designed for predictive maintenance and condition monitoring, among other things. It is capable of processing and managing data from multiple machines and serves as an interface to cloud servers or control rooms.
Preparatory data processing directly at the machine is necessary because many applications in production are time-critical. We therefore do not simply route data to "a big cloud. " With the sysWORXX CTR-100, machine data is pre-processed in the controller to detect deviations or errors and communicate a warning to the users via the sysWORXX CTR-700 and via cloud.
With this control technology, the user can, among other things, prevent certain peaks from being exceeded within the billing period and thus slip into a more expensive tariff of his energy supplier. Those who do not use such monitoring can even reduce their costs, because peaks can be avoided that were previously only guessed at.
Monitoring also opens up another field of application for users: predictive maintenance. Here, the monitoring systems detect minimal changes in the machine data that indicate wear or even possible failures. Predictive maintenance can be realized with monitoring such as that used for soldering ovens.
From the measured values, for example, if the furnaces take longer to heat up, you can detect increasing wear of the heating elements. If the history analysis shows that an unusually high amount of reheating is required on a regular basis, the insulation could have defects. Thanks to digital monitoring by our sysWORXX family, regular maintenance can be reduced. In some cases, it can be dispensed with altogether and instead be maintained proactively in line with wear and tear.
With sysWORXX, we enable a sensible entry into the IoT and Industry 4.0 that is perfectly tailored to your own company.
Your contact:
Your SYS TEC electronic sales team
Contact person