Trouble-free commissioning of the ECUcore-1021
Included are ECUcore-1021 SOM, Development Board & Software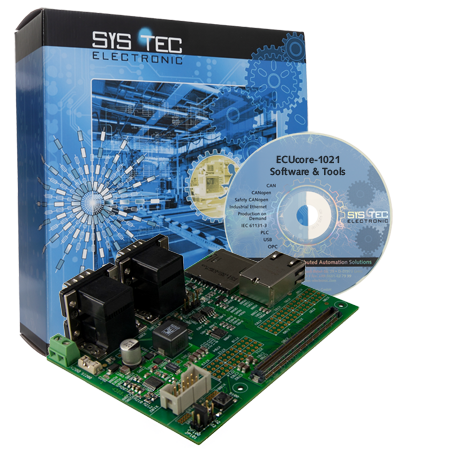 The Development Kit ECUcore-1021 contains an ECUcore-1021 SOM, a Development Board and software required for a trouble-free commissioning of the ECUcore-1021. This allows you to quickly start your own software development based on the Freescale Layerscape LS1021A microcontroller. The Development Board provides access to the ECUcore-1021 via Gigabit Ethernet, one RS232 port, two CAN interfaces and one SD card. Self-created Boot-Images can be loaded using an SD card as boot device. Additionally, SPI and interrupt signals are available on a patch field to connect own circuits. A simple and straightforward design of the Development Board helps users to understand what is required to use the ECUcore-1021 in their own applications.
The DVD included with the Development Kit contains a ready-to-use virtual machine (VMware-based) with a pre-integrated cross toolchain and an Eclipse-based IDE for immediate start of own application development on the ECUcore-1021 SOM.
For users requiring additional high-speed interfaces such as mSATA, Serdes, PCIe, USB and display connectivity, please refer to our Application Kit ECUcore-1021, which offers significantly more out-of-the-box features on the Carrier Borard.
Features / Details

VMware Image Linux - ECUcore-1021

The Linux development system included in the kit serves as development platform and as debug environment for the development of software applications on the ECUcore-1021. It contains a ready-to-use, pre-installed development environment for C/C ++ - application development that is pre-installed on a VMware virtual machine. The software required for the operation of the virtual machine (VMware Player) is available for download free of charge on the Internet. Using virtual machines for application development provides a number of benefits to the end user. Installing new software on your development PC is reduced to installing VMware Player. Even your development PC runs a Windows operating system. So you can develop Linux applications immediately without changing your existing operating system or setting up a new PC. There is no need to install the development environment or assemble the cross toolchain entirely from downloaded sources. This eliminates a large number of possible error sources for new users and saves valuable time. You can easily keep a working copy of your virtual machine for backup. In case of data loss, it is also possible to switch to your backup virtual machine to be productive again in no time.

Additionally, you can contact our internal support at any time. Here you can get schematic overviews and help, for example.

Kit components

ECUcore-1021 - System on Module
Development Board ECUcore-1021
Ethernet cable Cat.5e, 2m
RS232 null modem cable
ESD-Instructions
DVD incl. VMware Image with Linux Cross-Development Toolchain for the ECUcore-1021, data sheets and documentation
Documentation includes:

ECUcore-1021 hardware documentation
Circuit diagram Development Board

Ordering information

Bestellinformationen

| | |
| --- | --- |
| Item-No. | Description |
| KIT-173 | Development Kit ECUcore-1021, ECUcore-1021, Development Board ECUcore-1021, Power supply, Set of cables, DVD VMware Image Linux - ECUcore-1021 |
| 4004048 | Housing for ECUcore-1021 Dev. Kit (optional), Prepared and ready-to-use housing suitable for assembly of KIT-173 components |
Your contact:
Your SYS TEC electronic sales team
Contact person