Ideal basis for own IoT gateway applications
Use the multitude of common interfaces & on-board peripherals
The carrier board supplied with the Application Kit ECUcore-1021 integrates a variety of common high-speed interfaces such as Gigabit Ethernet, USB3.0, SATA3.0, PCI-Express, LVDS, DVI and SD-Card. In addition, various other communication interfaces and user input elements including CAN, RS485, RS232, PMOD, Arduino, keyboard, scroll wheel, audio, push buttons and LEDs are available on the board. The included Application Carrier Board schematic can be used as a basis for custom hardware designs and significantly speeds up development time by eliminating typical QorIQ LS1021A chip configuration or power supply design errors.
This wide variety of on-board peripherals is an ideal basis for implementing your own IoT gateway applications. Supported by an industry-proven Linux version and up to 3 Gigabit Ethernet ports, the Application Carrier Board integrates well into existing IT infrastructures. Additionally, it supports WLAN interface cards connected via MiniPCIe.
Both the on-board SD card and the mSATA sockets enable easy integration of mass storage on the Application Carrier Board.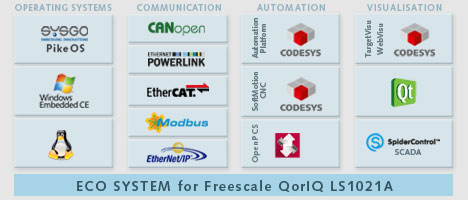 Features / Details

For use in applications where user interaction is required, the Application Carrier Board provides an interface for connecting LVDS-capable LCD screens or a DVI socket for use with standard COTS monitor devices. A dedicated touchscreen controller is available for connecting resistive touchscreens and accessing the on-board ambient light sensor. A dedicated 4x4 keyboard matrix input on a standard 2.54-mm-pitch pin header connector allows connection of user-specific keypads. Alternatively, you can also use conventional USB devices (Human Interface Devices, HID) such as keyboard or mouse. If you want to use the ECUcore-1021 in networked HMI device applications, the integrated scroll wheel with click input function is the ideal choice. This provides you with a simplified input device for target visualizations where a keypad or USB-connected input devices are not preferred.

A single frequency beeper is available for audible signaling. In addition, the application carrier board provides a dedicated audio channel with stereo line-in/line-out.

To support simple and standardized local I/O expansion, the Application Carrier Board also provides a socket connector for connecting Arduino Shields and two PMOD sockets - the standard interface for connecting Analog Devices sensors. A number of buttons, switches and LEDs are already integrated, as well as a temperature sensor.

Users with higher demands on I/O functionality can extend functions themselves via the integrated PCI Express slot, such as for connecting FPGA cards, or they can use the available USB3.0 ports. At the same time, common fieldbus interfaces like Ethernet, CAN or RS485 are available for remote I/O expansion. Please contact us regarding supported fieldbus protocols like POWERLINK, CANopen and/or Modbus.

To reliably support the large number of interfaces on the Application Carrier Board with their respective voltage domains, a comprehensive power supply circuit including power failure detection is integrated on the board. This can save you a lot of effort when developing your own devices based on the ECUcore-1021 System on Module.

The Application Kit contains an Application Carrier Board with pre-assembled ECUcore-1021 and Heat Spreader Board. The DVD contains the development environment for C/C ++ - application development on the ECUcore-1021, which is pre-installed on a ready-to-use virtual machine (VMware). The included documentation contains the circuit diagram of the Application Carrier Board and its parts list. The components used have been selected for applications in industrial environments. The schematic diagram provides a starting point for developing your own application-specific boards. The user gets to know the software environment, can perform performance tests himself and start writing application software.

Are you looking for a ready-to-use device solution? Please have a look at our IoT Gateway, where we offer a special version of our Application Carrier Board with ECUcore-1021 in a professional housing solution with various additional options.

Kit components

Application Board with mounted ECUcore-1021 and Heat-Spreader-Plate in ESD-safe packaging
Power supply 110/230V AC input voltage
Ethernet cable Cat.5e, 2m
RS232 null modem cable
CAN jack plug
ESD instructions
DVD with VMware Image with Linux Cross-Development Toolchain for ECUcore-1021
Documentation contains:

ECUcore-1021 hardware documentation
Application Carrier Board data sheet with quick start guide
Schematic of application carrier board and parts list

Ordering information

Bestellinformationen

| | |
| --- | --- |
| Item no. | Description |
| KIT-174 | Application Kit ECUcore-1021 |
| 4004036 | 64GB mSATA add-on module |
| 4004037 | WIFI Add-on Module |
| 4004047 | 3G/4G Wireless Card, pre-installed and tested on IoT-Gateway |
| 4004038 | CAN adapter cable |
| 4004039 | Power socket plug |
| 4004040 | CAN socket plug |
| 4002020 | Application Carrier Board |
| 4004041 | Heat-spreader assembly kit |
| 4004042 | Power supply |
| 4004043 | LVDS display with resistive touch screen |
Your contact:
Your SYS TEC electronic sales team
Contact person