Get to know our CTR family.
With our controller family, we connect worlds:
From sensor to cloud, machine to machine and machine to human - Let us connect your worlds too.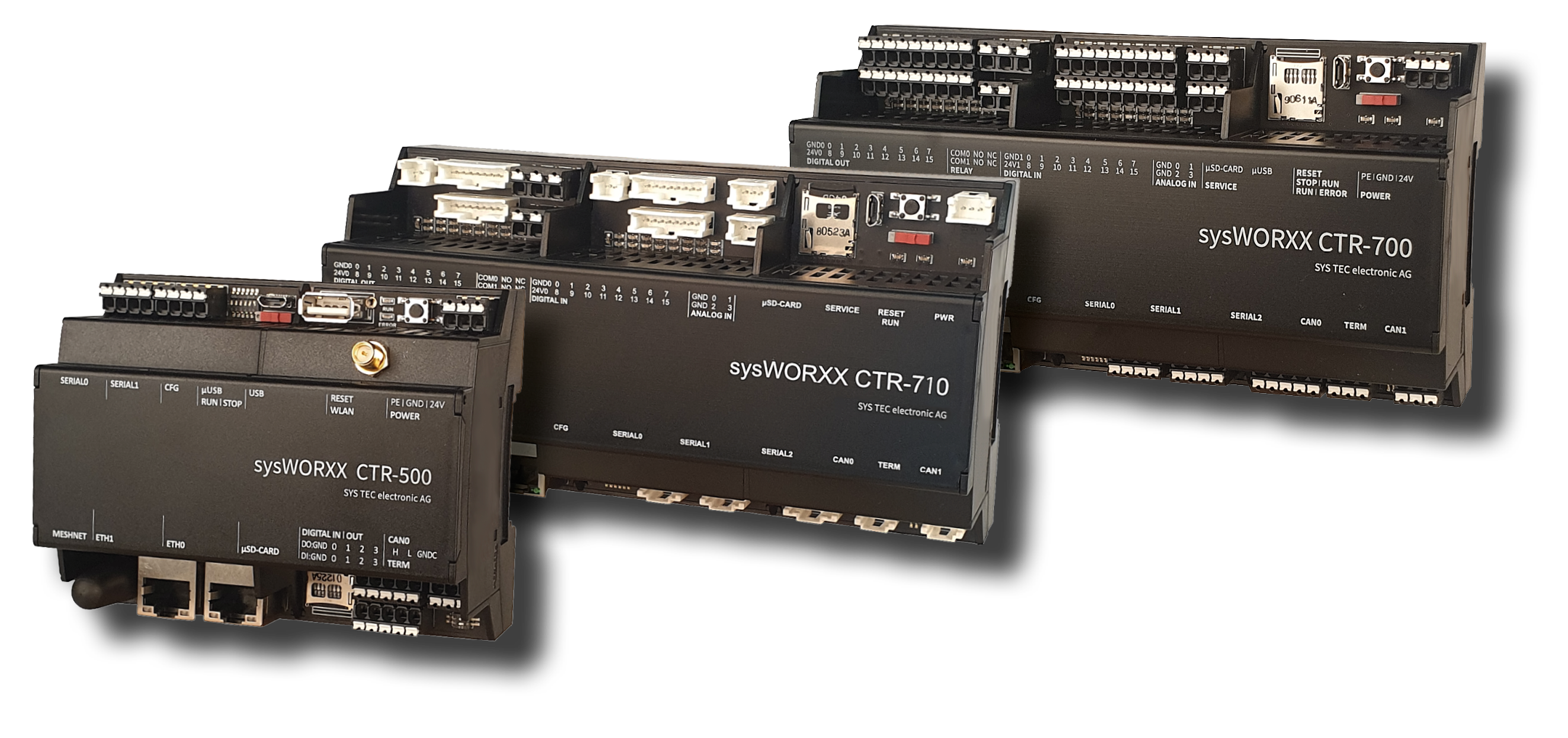 As freely programmable Linux compact controllers for automation and digitization, our sysWORXX CTR modules are also suitable for your projects.

The best: For easy entry, the low-code environment Node-RED can be used immediately even by non-informatics experts and provides access to all inputs and outputs of the device.
In addition, our modules can also be programmed as PLCs in IEC 61131-3 using the OpenPCS programming environment.
The great advantage that all our sysWORXX modules bring is: They speak the languages of your employees.
Due to the versatile application creation, all common high-level programming languages such as C/C++, Rust, C# (Mono), Java and Python are supported.
Each Ethernet interface has its own MAC address - this enables a secure separation between IT and OT. This makes it easy for your team.
With standard protocols like MQTT and REST, our CTR modules are ready for secure deployment with all major cloud providers. Thanks to fast and flexible integration, your IoT concept can be tested and expanded without large upfront investments.

The software ecosystem of all modules is based on the same building blocks, so software applications are easily transferable from one module to another.
We enable remote access via the device management qbee at any time and from anywhere. This solution is already adapted on our modules.You can benefit from our flexible control solutions, because they are an excellent starting point for your developments as well. As a big bonus, we offer the possibility of customer-specific adaptation through brand labeling in series production.
Your advantages:
Support of modern high-level languages as well as execution of IEC 61131-3 PLC programs and Linux-based applications

Independent Ethernet interfaces for secure separation of enterprise IT and store floor OT

Use of various protocols:
- CAN, CANopen (incl. CANopen manager service for integration of other CANopen modules)
- Modbus RTU and TCP
- OPC UA
- MQTT


Shielded backplane extension bus

suitable for DIN rail mounting

WLAN connection via external antenna
Your contact:
Your SYS TEC electronic sales team
Contact person