Fast & trouble-free commissioning
Includes all necessary hardware and software components to create your own HMI applications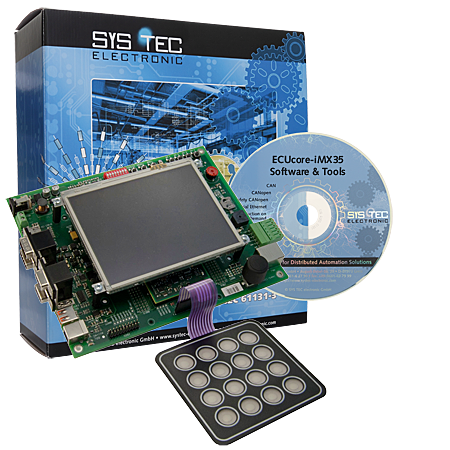 TheDevelopment Kit ECUcore-iMX35 ensures a fast and trouble-free commissioning of theECUcore-iMX35. It combines all necessary hardware and software components required for the creation of own HMI applications: as core component the ECUcore-iMX35, the corresponding Development Board with QVGA LCD display, 4x4 matrix keyboard, I/O periphery and numerous interfaces, the Linux-based development environment as well as further accessories. Thus, the Development Kit forms the ideal platform for the development of user-specific HMI applications based on the ECUcore-iMX35.
Development Board ECUcore-iMX35
The Development Board included in the kit enables fast commissioning of the ECUcore-iMX35 and simplifies the development of prototypes of user-specific HMI applications based on this module. Amongst others, the Development Board provides various possibilities for voltage supply, a 320x240 pixel QVGA LCD display, Ethernet interface, 2 CAN interfaces, 2 serial interfaces, 4 push buttons and 4 LEDs as control elements for the digital inputs and outputs as well as Scroll Wheel and connection for a 4x4 matrix keyboard. The signals available at the connectors of the ECUcore-iMX35 are routed to pin headers and thus enable easy connection of own peripheral circuits.
VMware Image Linux - ECUcore-iMX35
The Linux development system included in the kit serves as development platform as well as debug environment for the ECUcore-iMX35. A ready-to-use development environment for C/C++ applications is pre-installed on a virtual machine (VMware). The required player to start the virtual machine is available free of charge. The provision of a virtual development environment has a number of advantages. Installation of new software on your computer is limited to the VMware Player. This protects especially inexperienced users from a variety of possible error sources. You can easily back up your current work status with a copy of the virtual machine. In the event of data loss, your work status is immediately restored and you can continue working without delay. In addition, the development system can be used unchanged under different host systems.
Kit components

ECUcore-iMX35 - System on Module
Development Board for ECUcore-iMX35
5.7" TFT-LCD touch display
Membrane keypad 4x4 (unlit)
Power supply 12VDC, 1500mA
RS232 cable, 1.8m
FTP patch cable Cat.5e, 2m
CAN cable for 5 nodes, incl. 2 termination plugs
Lever out tool
ESD action instruction
VMware Image with Linux Cross-Development Toolchain for the ECUcore-iMX35

Documents & downloads
Your contact:
Your SYS TEC electronic sales team
Contact person