Fast & trouble-free commissioning
Included are all necessary hardware and software components to create your own applications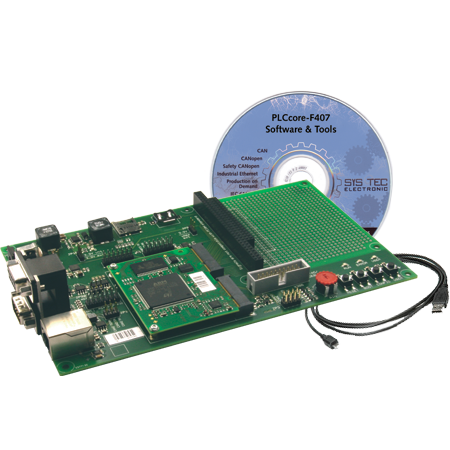 The Development Kit PLCcore-F407 ensures a fast and trouble-free commissioning of the PLCcore-F407. It combines all hardware and software components required for the creation of own applications: as core component, the PLCcore-F407 SOM with pre-installed runtime environment, the corresponding Development Board with I/O periphery and numerous interfaces as well as the IEC 61131 programming system OpenPCS.
Development Board PLCcore-F407
The Development Board included in the kit enables fast commissioning of the PLCcore-F407 and simplifies the construction of prototypes of user-specific applications based on this module. Among other things, the Development Board has different possibilities for voltage supply, an Ethernet interface, two CAN interfaces, USB, SD card slot as well as RTC with battery backup. As operating elements for the digital inputs and outputs, the development board has four pushbuttons and four LEDs as well as a potentiometer for the analog input. The signals available at the connectors of the PLCcore-F407 are routed to pin headers and thus enable easy connection of own peripheral circuits.
OpenPCS IEC 61131 programming system
The IEC 61131 programming system OpenPCS included in the kit serves as software development platform as well as debug environment for the PLCcore-F407. This allows the module to be programmed graphically in KOP/FUB, AS and CFC as well as textually in IL or ST. The download of the PLC program to the PLCcore-F407 takes place via CANopen or Ethernet. Powerful debug functionalities like monitoring and setting of variables, single cycle, breakpoints and single step facilitate the development and commissioning of user software for the module.
Kit components

Documents

Downloads

Downloads
Name
Type
Size
Action
S
SYS TEC electronic - specific extension for OpenPCS / IEC 61131-3 Version 7.1.5 RV2.00 - german
exe
32 MB
Download

Ordering information
Your contact:
Your SYS TEC electronic sales team
Contact person