Interconnect sensors, actuators and systems IP-based over long distances
Discover the future of network connectivity
with Single Pair Ethernet
Use as an adapter in the industrial environment, in test systems and in the development area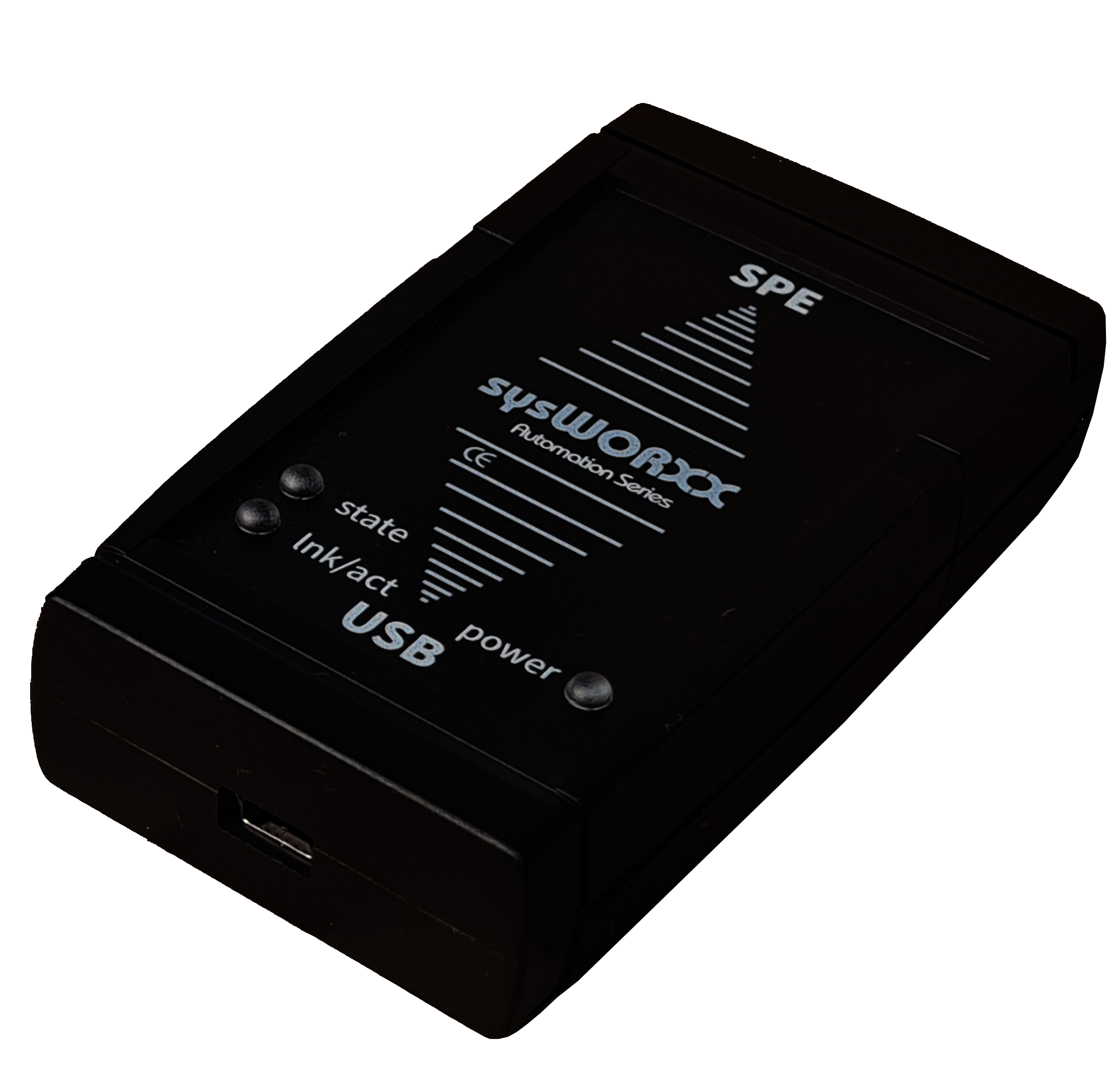 Single Pair Ethernet (SPE) is a breakthrough technology that is revolutionizing the way we build and operate networks, using a single pair of wires to simultaneously transmit data and power the assembly. With simple installation at minimal cost, SPE enables end-to-end IP-based communications (e.g., TCP/IP) from sensors and actuators in the field, across control planes, and into the cloud - all without protocol converters.
SPE networks can be connected via Windows, Linux and macOS devices such as PCs, laptops and embedded controllers.
What makes SPE so special?
It enables a cost-effective and efficient cabling solution for various applications. Whether you run sensors and actuators, want to cost-effectively connect industrial equipment over long distances, or have a smart home, SPE gives you the flexibility you need to optimize your network.
With SPE, you can not only reduce your network costs, but also save valuable space. By using a single two-wire cable for data transmission and power, you reduce the need for cables and connectors. That means less cable clutter and easier installation.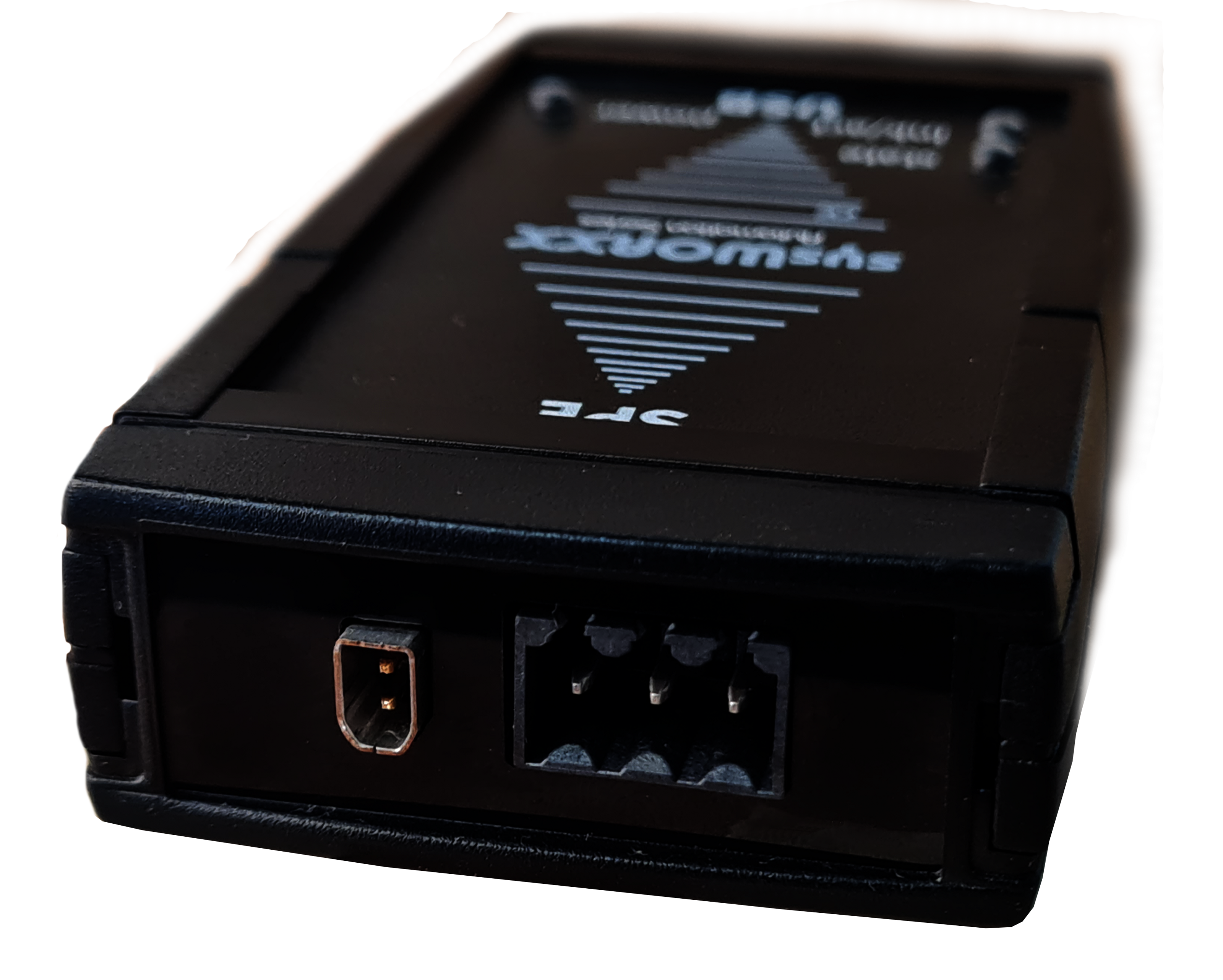 The Ethernet interface of the sysWORXX USB-SPEmodule is available with two different connection standards. In addition, SPE offers high transmission speed and reliable data transfer. Whether you want to send large files, transmit images in the field of video surveillance or connect IoT devices, SPE provides you with the necessary performance with minimal cabling effort.

Our sysWORXX USB-SPEmodule is designed specifically for use with single pair Ethernet. It provides you with a reliable and fast network connection that meets your needs. Whether you want to use it in the IoT environment, for your business or your home, our USB-SPEmodule is the perfect solution.

You can conveniently download the driver for the USB-SPEmodule from our website. This allows an easy Plug&Play installation (one-time driver installation).
The USB-SPEmodule complies with the EMC directive 2014/30/EU and is also available as OpenFrame variant.
Your advantages:
Uniform IP-based protocols without conversion from sensor/actuator to the cloud
Reduce network costs through effective cabling
Flexibility you need to optimize your network
High transmission speed and reliable data transmission over long distances (>1000m)
Point-to-point topology
Full duplex
Features & Details

Modul- Eigenschaften

| Physical | |
| --- | --- |
| Size (LxWxH) | 78 x 45 x 18mm |
| Weight | approx. 40g |
| Operating temperature | -40 to +85ºC |
| Humidity | 10 to 95% non-condensing (VDE 0110) |

n

| Connectivity | |
| --- | --- |
| Number of SPE channels | 1 |
| Host connection | USB V2.0 Full Speed |
| Host connection | Mini USB-B female |
| SPE interface | 1 SPE interface, 10BASE-T1L according to IEEE 802.3cg |
| SPE specification | IEEE 802.3cg |
| SPE connector | 3pin connector, screw type or SPE connector (according to IEC 63171-2) |
| SPE max. bit rate | 10Mbit/s |

n

| Software | |
| --- | --- |
| Software supported operating systems | Windows® 10, 8.1, 8, 7 (32/64 bit) |
| | Linux |
| | macOS |

n

| Displays | |
| --- | --- |
| LED | LEDs for power supply, SPE-Link/activity |
| Power supply | USB Powered |
| Current consumption | typ. 60mA |

n

| Housing | |
| --- | --- |
| Housing | Table housing |

Ordering Information...
Your contact:
Your SYS TEC electronic sales team
Contact person