Integration of CAN buses into existing Ethernet technology
Use as universal PC CAN interface as well as for coupling CAN networks via Ethernet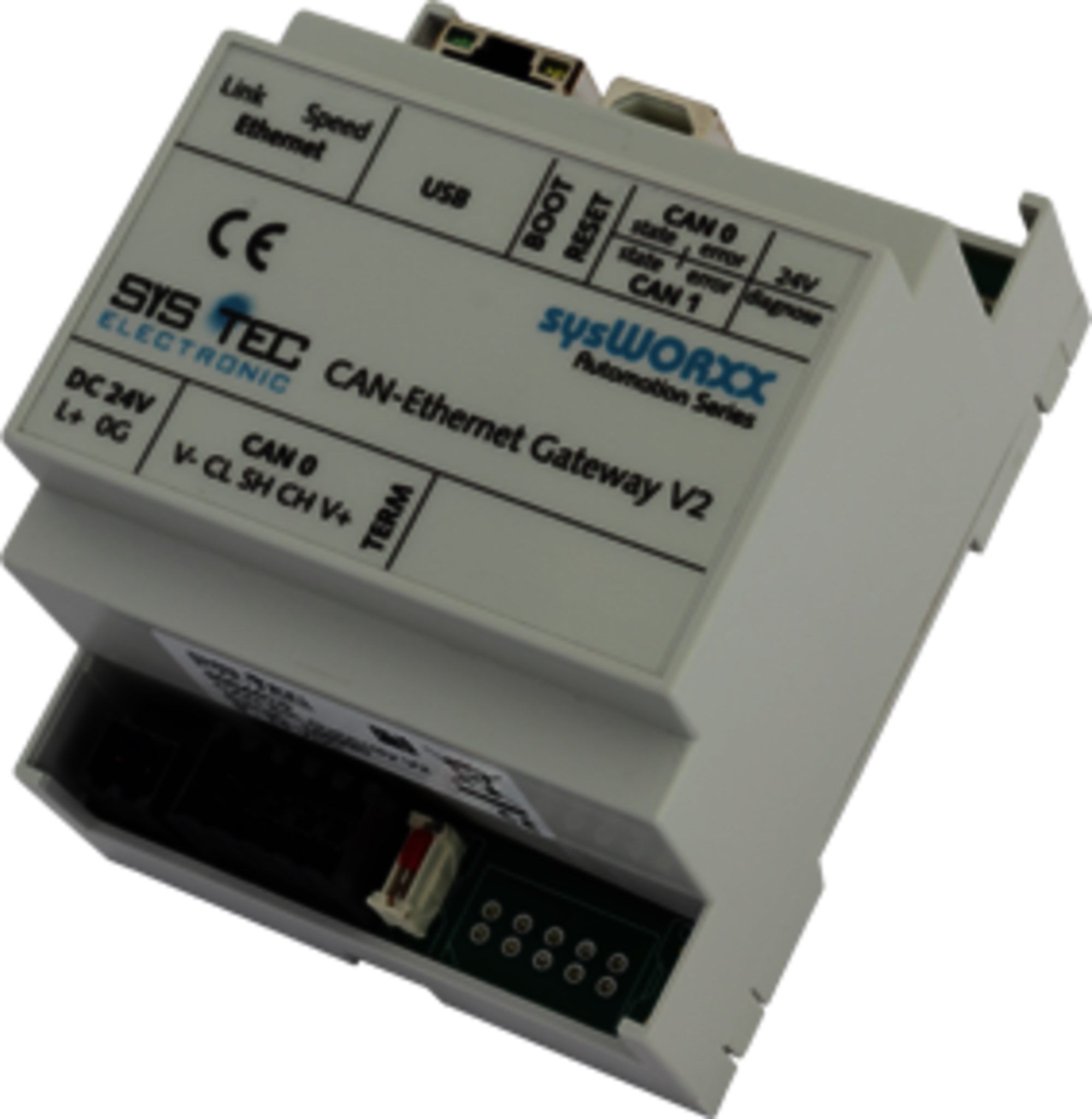 The CAN Ethernet Gateway enables the integration of CAN buses into an existing Ethernet topology. It is thus suitable both as a universal PC CAN interface and for coupling CAN networks via Ethernet. CAN messages are transmitted directly on layer 2 level - and thus protocol-independent . This allows the CAN Ethernet Gateway to be used for various high layer protocols, such as CANopen, DeviceNet or SDS. Access via Ethernet is possible via TCP as well as UDP.

The CAN Ethernet Gateway is based on a powerful ARM9 controller, which ensures a high data throughput even with several CAN interfaces active at the same time. By using Linux as operating system, the user can run own programs in parallel to the gateway application. Sophisticated filter and trigger mechanisms allow user tasks to be called directly on the gateway as a targeted response to specific events.
Easily configurable filters ensure a reasonable restriction of the CAN messages to be transmitted. A time stamp is assigned to each CAN message, which ensures temporal transparency during message transmission. The CAN Ethernet Gateway can manage several Ethernet connections simultaneously , thus enabling the creation of complex network structures.

The device can be configured either via Ethernet or via USB.
Features & Details

Details

| | |
| --- | --- |
| Physical | |
| Size (LxWxH) | 70 x 100 x 61 cm |
| Operating Temperature | 0 to +70ºC |
| Humidity | 10 to 95% non-condensing (VDE 0110) |
| Operation Modes | |
| Gateway mode | The gateway mode allows the device to be used as a universal CAN/Ethernet coupler |
| Bridge mode | The Bridge mode allows the transparent coupling of CAN networks via LAN or Internet. |
| Connectivity | |
| Ethernet interface | 10/100 Mbit/s Ethernet (10Base-T/100Base-T) |
| Connector | RJ45 |
| CAN Controller | SJA1000 |
| CAN interface | up to 2 CAN interfaces, high-speed CAN according to ISO 11898 1/2, optically isolated |
| CAN specification | 2.0A (11-bit identifier) |
| | 2.0B (29-bit identifier) |
| CAN bus connector | 2x 5-pin removable screw terminal connectors, optionally with D-SUB-9 adapter cable |
| CAN bus transmission rate | 10kbps to 1Mbps |
| CAN bus features | Remote frames, Listen only mode, error message with configurable identifier |
| | Time stamp for received messages |
| Software | |
| PC application programming | via Windows with programming API (DLL) standard programming language (e.g. C/C++) |
| Power supply | |
| Power supply | 24VDC +20% -60% |
| Power consumption | typ. 100mA |
| Connection power supply | 2pin screw terminal connector |
| Housing | |
| protection class | IP20 plastic housing for DIN/EN top-hat rails |
| Other | |
| Gateway configuration | via Telnet, FTP or serial interface via USB port |
| Gateway software | preprogrammed Linux, device firmware |

Function types

Gateway mode

The gateway mode allows the use of the device as a universal CAN/Ethernet coupler. Typically, the gateway is used as an external CAN interface on a PC and thus enables simple and flexible access to CAN systems via a LAN or via the Internet. The drivers included in the scope of delivery enable the CAN-Ethernet gateway to be used as a PC interface for all CAN and CANopen software tools distributed by SYSTEC. The detailed documented driver API also supports the integration of the gateway into own user applications. Messages are exchanged with the CAN network from the host application via socket-based TCP or UDP communication.

Bridge mode

The bridge mode allows the transparent coupling of CAN networks via LAN or Internet. By filtering messages, the data volume to be transmitted can be limited on the one hand, and on the other hand the data exchange between the subnets can be specifically influenced. For example, when coupling CANopen networks, it is possible to exchange only PDOs and to exclude all other message types from forwarding.

Documents & downloads

Downloads
Name
Type
Size
Action
C
CAN-Ethernet Gateway - Product Data Sheet
pdf
848 KB
Download
CAN-Ethernet Gateway V2 - ASCII parser example
zip
2 MB
Download
CANopen API for .NET - Software Documentation
pdf
273 KB
Download
CAN-Ethernet Gateway V2 - System Manual
pdf
1 MB
Download
CAN-Ethernet Gateway V2 - USB interface driver for Windows Driver for Windows® 10, 8.1, 8, 7 (32/64 bit)
zip
7 KB
Download
CAN-Ethernet Gateway - Windows Driver Package P/N SO-1027 Driver for WinXP / Vista / Windows 7 including programmer API DLL - Release V3.3.1.0
zip
30 MB
Download
CANopen API for .NET P/N SO-1088 - V5.70
zip
31 MB
Download

Ordering information
Your contact:
Your SYS TEC electronic sales team
Contact person