SYS TEC electronic kreativ - Cooperation Zwitscherkiste
The audio station for more nature
When you think of electronic services, at first glance you don't necessarily associate it with the terms forest and nature. But that's exactly what Walter Dörich Metallbau GmbH did for its innovative chirping box. It enlisted the support of SYS TEC electronic for the technological optimization and production of the electronic component.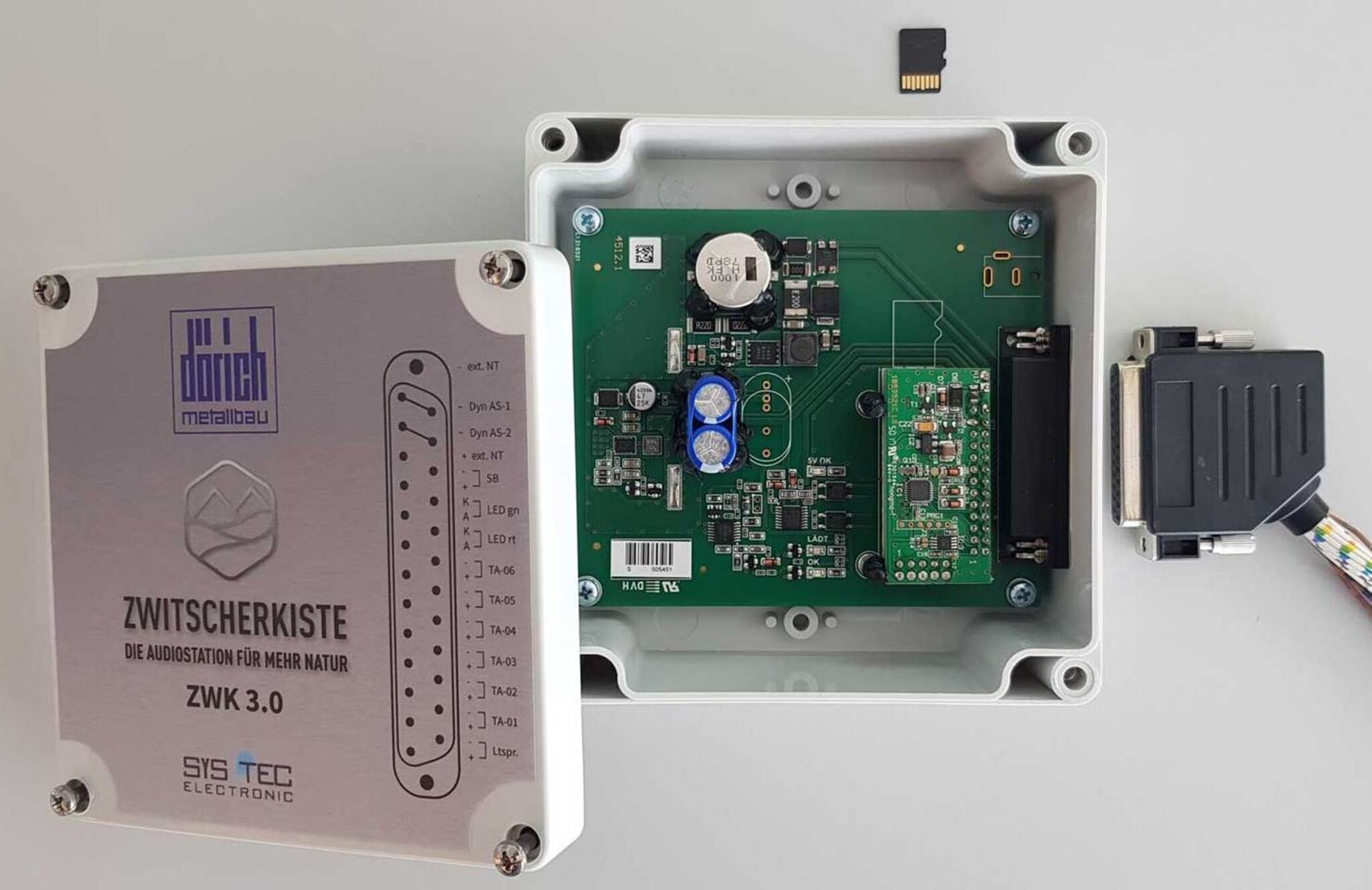 The Zwitscherkiste is a flexible recordable and customizable audio station, where up to 12 different audio files can be used. The product history itself began with bird calls, hence the name.
In the same way, voice announcements can be played, e.g. in German and English. Heavy it is, the Zwitscherkiste and embedded in a weatherproof housing with a high-grade steel base plate. It can be used in a variety of ways, is very robust and functions completely self-sufficiently in terms of energy. The power required to play the audio files is generated by means of a hand-operated dynamo for the built-in energy storage device. The audio files are stored on an MP3 player. Depending on the installation location and theme structure, the housing, logo, lettering and the number of selection keys (up to a maximum of 6 keys) can be customized.

Originally, the customer's request was only to produce the electronic assembly as it was provided by the customer. However, the SYS TEC electronic team quickly recognized the potential for improvement and so the complete circuit concept was optimized. In implementation, SYS TEC electronic revised the layout, used more powerful components such as supercapacitors, and changed the design to SMD components. After completion of the work, it was possible to shorten the time required for charging and to extend the playback time of the audio files.

And so it chirps in the trees, it rattles in the box, and you think, "I'm standing in the forest!" But you're not just standing in the forest, you might be standing on a nature trail or in a museum in front of the ZWITSCHERKISTE, which explains a lot about nature, culture and history. Only now a little more comfortable.

For more information: www.zwitscherkiste.de
A new contribution of our partner to the Zwitscherkiste is online.
Have fun watching!
Your contact:
Your SYS TEC electronic sales team
Contact person