Next Generation - the new CANopen Chip CoC-100
Reliable communication - CAN FD tolerant & powerful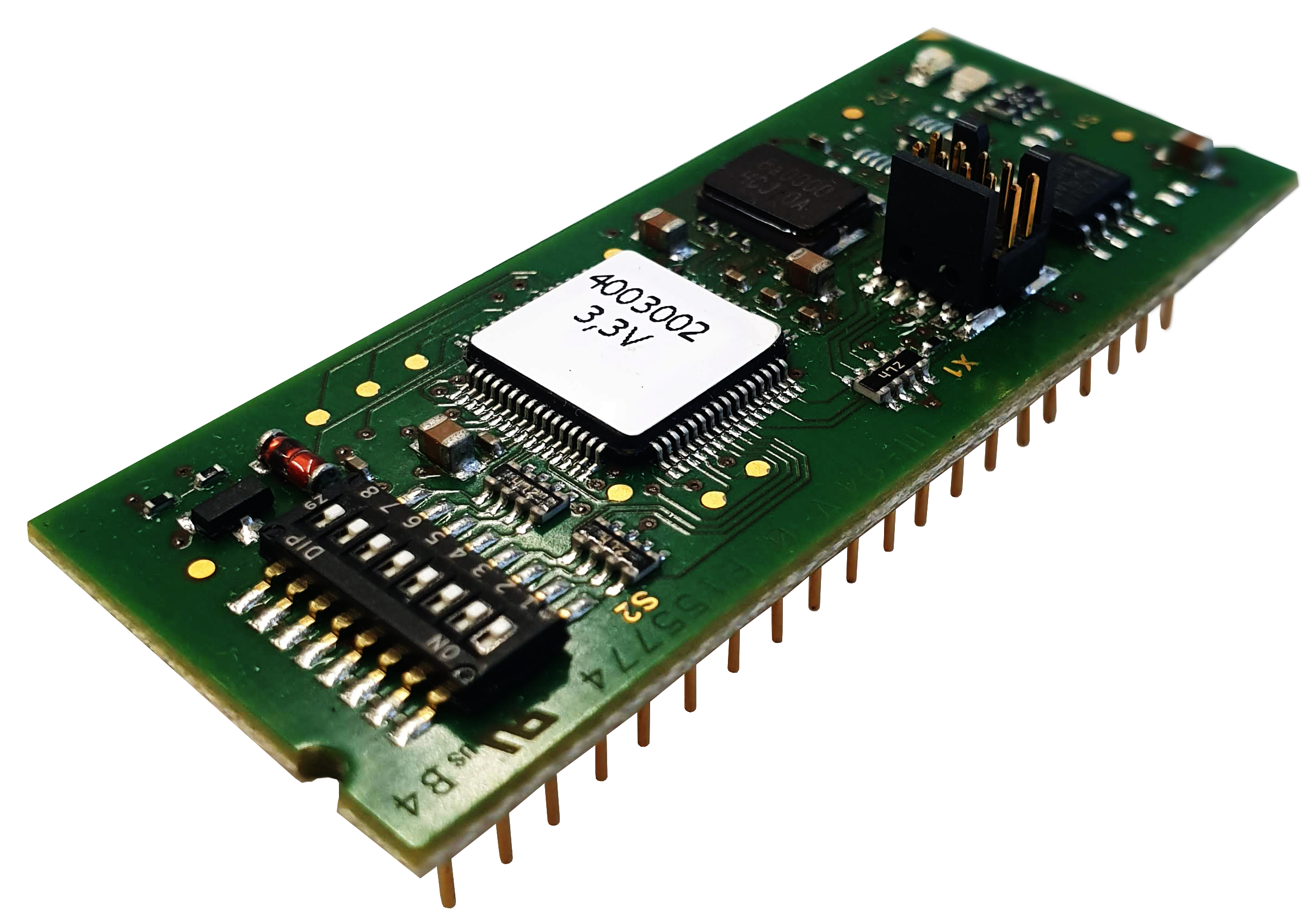 Like its predecessor, the sysWORXX CANopen Chip F40, the new sysWORXX CANopen Chip CoC-100 is a completely ready-to-use plug-in module (SOM) with pre-programmed CANopen firmware for controlling decentralized CAN nodes. The integrated standard DIP-40 connector forms the interface to the target hardware and makes the sysWORXX CANopen Chip CoC-100 a versatile communication interface.
With up to 7 I/O configurations, it provides an extensive selection of usable digital inputs and outputs, analog inputs and PWM outputs. The on-board setting options allow flexible module configuration. The sysWORXX CANopen Chip CoC-100 is a CANopen slave device according to the CANopen device profile CiA DSP 401 V3.1.0 and CANopen communication profile CiA 301 V4.2.0 (tested with the CiA Conformance Test Tool. LEDs indicate the device status according to CiA 303-3 V1.4.
Test our new CANopen chip in your existing application!
Key Features & Advantages...

KPIs / Key features

FD tolerant
Future-proof use thanks to the NXP S32K142 controller
Usable in 5V or 3.3V operation
Higher accuracy of the AD converter - 12 bit
CANopen bootloader for firmware update via the CAN bus

Advantages

New powerful CPU NXP S32K142 (more CAN buffer)
Integration Layer setting services (LSS) according to CANopen standard CiA DSP 305
Analog inputs with higher resolution: 12 bit (compared to 10 bit on the F40)
Design optimized in terms of production technology
The CPU is available as a pre-programmed chip for customer-specific design-in under the designation sysWORXX CANopen µChip CoC-100
Cost-effective communication interface

Configuration...

Customized extensions and adaptations...

Do you have a product idea for which the sysWORXX CANopen Chip CoC-100 seems interesting, but special functions for use in your application are still missing? Talk to us, we will be happy to support you in adapting our hardware and software to your requirements. Of course, SYS TEC electronic is also at your disposal at any time for design development, technological support, series production and production.

Documents & Downloads...

Downloads
Name
Type
Size
Action
B
Brochure sysWORXX CANopen Chip CoC-100
pdf
971 KB
Download
D
Device Firmware for sysWORXX CANopen Chip CoC-100, P/N 4003001 and 4003002 Firmware version V1.09 ChangeLog For more information about the firmware update, please contact our sales or support!
zip
627 B
Download
Developmentboard for sysWORXX CANopen Chip - Hardware Manual
pdf
849 KB
Download
Development Kit CANopen Chip CoC-100 - Quickstart Manual
pdf
547 KB
Download
E
EDS files - sysWORXX CANopen Chip CoC-100 (4003001) P/N SO-1134 - Package includes the "Electronic Data Sheet" (EDS) for the sysWORXX CANopen Chip CoC-100 module with article number 4003001
zip
22 KB
Download
EDS files - sysWORXX CANopen Chip CoC-100 (4003002) P/N SO-1138 - Package includes the "Electronic Data Sheet" (EDS) for the sysWORXX CANopen Chip CoC-100 module with article number 4003002
zip
22 KB
Download
S
sysWORXX CANopen Chip CoC-100 - System Manual (EN)
pdf
1 MB
Download

Ordering information...

Bestellinformation

| | |
| --- | --- |
| Item no. | Description |
| 4003001 | sysWORXX CANopen Chip CoC-100 5V |
| | I/O module in DIP40 housing, -40°C to 85°C, S32K142 |
| 4003002 | sysWORXX CANopen Chip CoC-100 3V3 |
| | I/O module in DIP40 housing, -40°C to 85°C, S32K142 |
| 4002003 | Development board DIP module 5V |
| | Incl. base board for development and commissioning |
| 4002026 | Development board DIP module 3V3 |
| | Incl. base board for development and commissioning |
Your contact:
Your SYS TEC electronic sales team
Contact person