"We have a lot of opportunities here"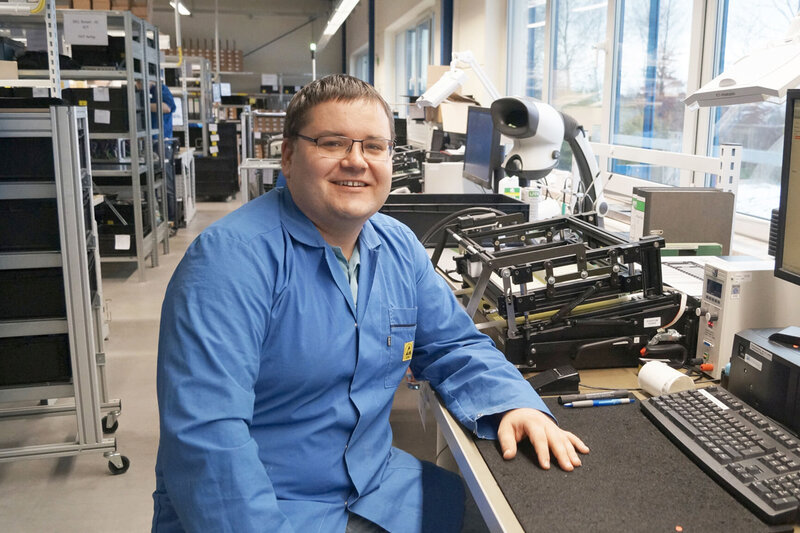 Our "homecomer": Christian Müller in interview
Christian Müller lives in Reichenbach and has been working at SYS TEC electronic in Heinsdorfergrund for six years. He is a graduate engineer (BA) in communications engineering and is responsible in the technology department for innovations and improvements that affect series production.
After graduating from high school, he lived in the Stuttgart area for a total of eight years, studied at a vocational academy and worked for an employer in the automotive industry for four years.
What prompted you to return home?
The trigger was a long-distance relationship that simply needed a decision for the next step. We wanted to move in together and start a family. The Vogtland offered itself, since my wife and I come from here. We have been a couple since we graduated from high school.
How long did it take to find a suitable job in the region?
From the decision to come back home to the actual job interview was a time horizon of two months. So it was relatively quick after all. It was probably a lucky circumstance that a suitable position was available at the time. There was a period of four weeks between my application and the acceptance.
I had only written one application at the time. A company in Chemnitz happened to have several suitable positions open that matched my expectations. That was my first step into the regional environment. The second step to SYS TEC electronic came four years later. My job in Chemnitz was connected with a long way to work. So I spent two hours of free time every day. As our family planning then became very concrete, this was also no longer viable, for example to secure the care times for our child. So it was a lucky coincidence that a suitable position was also advertised here at SYS TEC electronic.
In retrospect, do you regret leaving?
No. It was a conscious decision. I wanted to get away from my parents' house for a while, and the dual study program at a university of cooperative education that I completed in Stuttgart gave me financial independence. That was very important and helpful for my personal development. I have no regrets whatsoever.
Of course, such a decision is associated with privations, even if it was made consciously. During this time, I had a long-distance relationship with my current wife. Which is, of course, exhausting in the long run, since there is so little time available together. Due to family trips home, my weekends were always very tightly scheduled. I wanted to see my family, spend time with my girlfriend and also maintain my circle of friends. Getting everything under one roof is a huge organizational effort and annoying in the long run. Starting a family under these circumstances was unthinkable.
Do you understand why young people still leave the region today?
There's no general answer to that question. It always depends on the individual motives. In my case, for example, the reason was not that I had no prospects here. I wanted to create a certain distance from home in order to detach myself. So there are certainly reasons for leaving the region. But I would not see fear of the future, in terms of job security in the region, as a reason to leave here.
What advice would you give to others who have left home?
In my view, all the advantages that the Vogtland region offers outweigh the disadvantages. It starts with being closer to your grandparents, who give you a helping hand, as well as your old circle of friends. I can only advise everyone to stay with the family.
What do you particularly appreciate about Reichenbach and the Vogtland?
My wife works in Greiz. She also has a very short way to work. For us, living in Reichenbach is really ideal. Childcare is very important to us. I appreciate running errands together with my child after work and kindergarten. When we walk home, we can quickly stop by the bakery or the library. The toy store is not far away either. We have a lot of options here.