Process optimization - A joint project Marketplace|4.0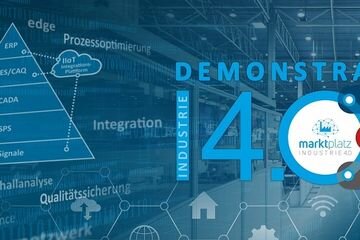 Fully exploiting the potential of the IoT.
Relevant process data and key figures as well as essential order data are provided to the relevant systems along the entire automation pyramid. This ensures a consistent status picture throughout in real time from the sensor or edge level of production to the ERP system with the following benefits:
Precise capacity planning and authoritative customer communication;

Increased quality of manufactured products and reduction of defective parts;

Predictive maintenance, even before machine or system parts fail;

Energy monitoring and optimization.
Three companies have combined their core competencies and present a joint retrofit use case in which an existing machine was retrofitted with additional sensor technology to detect anomalies at an early stage by means of structure-borne noise analysis and corresponding data preprocessing at the edge level(SYS TEC electronic AG). An MES system with a focus on zero error tolerance(Pickert & Partner GmbH) uncovers optimization potential. The TRANSCONNECT® interface server(SQL Projekt AG) handles the overall data integration, aggregates all relevant data and makes it available to the relevant systems in the right format at the right time.
An all-around successful joint project in Marktplatz Industrie 4.0 e.V.