IoT chip for direct cloud connection without gateway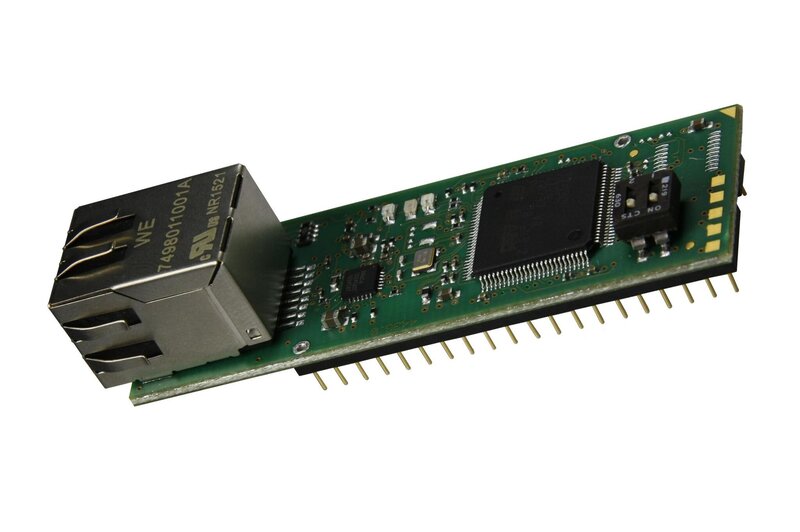 Plug in - ready - cloud!
Our freely programmable IoT chip for direct cloud connection without a gateway is coming to the embedded World trade fair.
In recent years, the "Internet of Things" has become a permanent fixture in everyday life. More and more devices are networked with each other; in addition to PCs and smartphones, even cars, televisions and refrigerators can now send and receive data via the Internet. In industry, processes are increasingly being digitized so that data can be accessed regardless of location and time. Communication via network structures eliminates the need for previously fixed cables and instead allows flexible, configurable exchange of measurement data and control commands between different devices.
We have addressed the IoT issue and developed a plug-on computing core for connection to the cloud. The result is an easy-to-integrate IoT chip, for use in Internet of Things/Industry 4.0 applications and the associated connection of devices/machines to the cloud.
Our solution is freely programmable by the user. Unlike other IoT chip devices, our IoT chip Sensor2Cloud combines requirements with data pre-processing from time-critical signals to efficient control tasks. Corresponding function libraries are already pre-installed for this purpose.
The advantages of our IoT chip are in the area of application, security and cloud connection. Libraries and protocols such as MQTT, Modbus or CANopen are available on the chip and can be used directly.
The templates provided in the source code serve the user as a starting point for their own customizations. Actuators and sensors can be connected directly via I²C and SPI.
This means that the entire measurement, control and regulation can also be handled on the IoT chip. The chip thus functions autonomously and independently of the cloud. With other IoT chip devices, said processes typically take place in the cloud. Moreover, no additional gateway is required for the connection to the cloud.
Our IoT chip is M2M communication at the highest level, efficient and available at moderate costs.