Highest optical performance at SYS TEC elctronic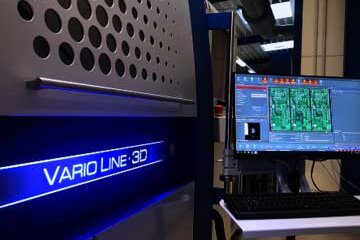 SYS TEC electronic expands production
Optical inspection procedures have been a common means of optimizing the production process at SYS TEC electronic AG from the very beginning and are used to check visible quality features of an assembly.In order to improve these processes even further, the electronics service provider has invested in its own production and an additionalautomatic optical inspection system, in short AOI,invested.
TheVario Line 3D-AOI X50 from Göpel went into operation in December 2020 and includes a flexible AOI system that ensures significantly higher defect detection and a significantly lower pseudo defect rate thanks to the combined 2D and 3D technologies. Among other features, the Vario Line is equipped with special multispectral and multidirectional illumination. Four integrated oblique view cameras, which allow inspection in 360 1° steps, produce excellent inspection images. As a result, the analysis of printed circuit boards is not only better, but also implemented more quickly. An axis system based on linear drives impresses with very good dynamic properties as well as maximum positioning speed, thus ensuring maximum inspection speed.
Thanks to the increased level of automation, significantly larger series with ever smaller components can now be inspected effectively and with a high degree of reliability. Dominique Bräuer, Head of the Production Department, sees further, very clear advantages in the new AOI machine: "As production requirements are constantly increasing in terms of complexity and size of components, it only made sense to invest in the new optical inspection system and a new 3D technology. Now we also include valuable height information in the 3D display and thus obtain even more precise analysis images, related to the quality of solder joints or entire assemblies. Of course, this has a positive effect on the entire process."
With the new Vario Line, SYS TEC electronic is in a position to respond to the increased production requirements and also to serve production orders with larger series quantities.