Iot partner solution with TeamViewer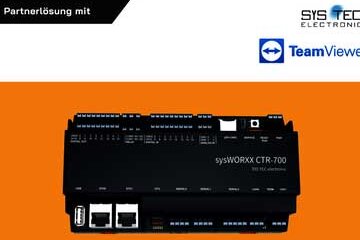 Remote solution available with pre-installation on sysWORXX CTR-700
In the future, each of our edge controllers, the sysWORXX CTR-700, will be equipped with the IoT TeamViewer remote solution. Pre-installed, this lean solution and the Edge devices from sysWORXX, allow you to easily combine remote access and control with remote monitoring. So you can connect to your edge devices and monitor and control them securely from anywhere. The simple remote access to the controller ensures that users always have everything in view and can get an overview of values and states.
Remote access takes place in shell and web access, and the visualization of real-time data is realized on Edge and in the cloud. Monitoring as well as defined alarms in case of threshold violations are carried out via the TeamViewer IoT cloud.
Want to learn more about this solution?