Cross-site networking using cloud and edge solutions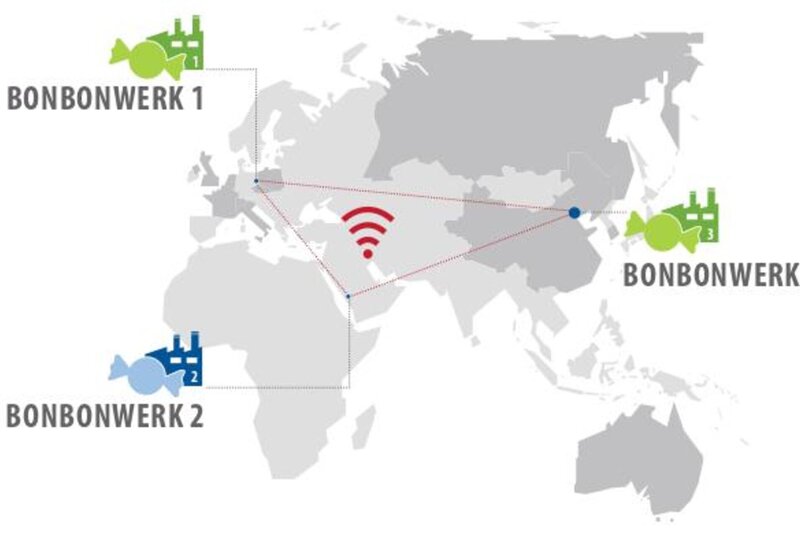 At the Automatisierungstreff from 19-21.02.19 in Böblingen, we will present our joint project with ELCO Industrie Automation: the globally networked candy factory. Here, our edge controller sysWORXX CTR-700 meets the cloud solution from ELCO. The result is the visualization of relevant data across all production sites.
The globally distributed sites of a confectionery manufacturer are networked by means of a central cloud. The goal was to provide the various stakeholders from the company's management and control with information about the production capacity utilization of the individual candy plants, the quality of the products, the processing statuses of orders, etc. The data was then made available to the various stakeholders.
This project is implemented with our edge controller sysWORXX CTR-700 and the cloud solutions fromELCO.
The bulk of the data remains in the edge, i.e. in the data center of the respective locations. Only the raw data actually required for the calculation of key parameters or information calculated from the raw data is transferred to the cloud. This was analyzed against the background of data and know-how protection and defined in fine granularity. At the same time, the quality of the calculated information was improved by adding more sensors. For remote and possibly autonomously operating facilities such as pumping stations, IoT solutions based on mobile communications are suitable for making the sensor data available in the IoT cloud. In the production facilities themselves, sensors were retrofitted using mesh networks.
This information is accessible via a customized industrial app. The app is distributed via a company-owned app store and is available for Android and iOS devices. In addition, all employees can create their own individual views of the database according to their specific tasks and orders by means of user-specific dashboards and a few clicks. Today this view, tomorrow that view - it's up to each employee.
This project is being implemented as a joint project with the company Elco Industrie Automation and made available as a demonstrator as part of the Marktplatz I4.0 e.V. association. With this demonstrator, the potential of IIoT, cloud and apps can be experienced. Impulses for new business models are pre-programmed.